ESPN – The Browns continue to keep the decision about their No. 1 pick a secret, but there is a mounting belief from head coaches and general managers around the NFL that Cleveland will take quarterback Baker Mayfield, ESPN's Adam Schefter reported Thursday.
The Browns hold the No. 1 and No. 4 overall picks in the draft, which begins Thursday at 8 p.m. ET at AT&T Stadium in Arlington, Texas.
Browns general manager John Dorsey didn't provide many hints on the team's draft strategy when he met with reporters last week, saying he expected at least four quarterbacks to be picked in the first round.
ESPN draft analyst Mel Kiper Jr. has projected the Browns to select Mayfield at No. 1 in his final mock draft, while ESPN's Todd McShay believes USC's Sam Darnold will be the pick. Wyoming quarterback Josh Allen and UCLA QB Josh Rosen also could be in the mix.
Mayfield, who won the Heisman Trophy at Oklahoma, recently visited with the Browns and Dorsey referred to him as a "pleasant fella."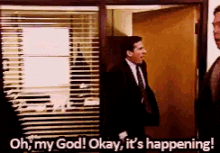 IT'S HAPPENING! IT'S FUCKING HAPPENING!!
After months, MONTHS, of hearing absolute nonsense leading up to the draft, my patience and restraint may finally pay off. Baker Mayfield is rumored to be going to our beloved Cleveland Browns with the first overall pick tonight.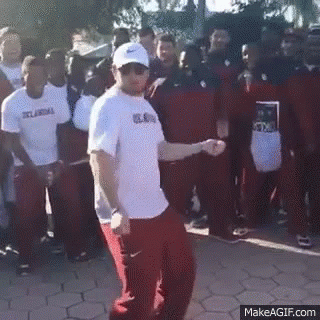 live look at me and all my Baker Believers
In my months of month like silence, I've been preparing myself for this very moment because inevitably, the following things will happen if my dreams come true and Baker goes first overall.
1.) People will say they should've drafted Darnold. Honestly, I'm okay with this, because I understand the logic. Darnold seems to be the safest bet of all of these guys. He's a big guy, the youngest of the class, and is not the worst at any category when it comes to on the field play (except turnovers *rolls eyes at Darnold advocates*)
That being said, he just seems so…blah to me. Don't get me wrong, he's a good quarterback. But that's it. Good. I don't see him being a stud QB at the NFL level, I think max his ceiling is serviceable with 2-3 Pro Bowls. People keep comparing him to a young Big Ben, but Ben has had more talent on his offense for the past 4 seasons than arguably any team in the NFL and hasn't won a Super Bowl with them, so maybe that's not what you want out of a QB in today's game..? Just a thought.
Bottom line is if they draft Darnold I won't be mad, but I won't be thrilled.
2.) People will say they should've drafted Rosen. Again, I don't have a problem with this take either really. Rosen by all means is the most "NFL Ready" of the bunch. His accuracy is the best of the class, and that is the one thing you can't teach a QB. You can fix mechanics, you can fix timing, but you can't fix whether or not a guy can put it on the back shoulder going up the sideline.
I also don't care that Rosen is smart and/or has other interests outside of football. It seems patently ridiculous to me that someone being smart would be a shortcoming for them as they begin their career. I mean, Myles Garrett is into like dinosaurs and anime and shit and nobody had a problem with that, so why is it relevant now?
The biggest issues I have with Rosen, though, are escape-ability and injuries. Losing Joe Thomas this offseason, the Browns now have a Hall of Fame sized gap at left tackle that they need to fill. Considering that the O-Line is bound to be at the very least slightly worse than last year, so they need a QB that can move to a.) make them look good and b.) prevent himself from getting killed back there. Rosen is great in the pocket, and has the ability to make off balance throws, but the NFL is surely a lot faster than the D-Line's of the Pac 12, and I think he'll struggle in any offense that does not have a premier offensive line.
Hand in hand with that, are the injury concerns. Rosen suffered two concussions that caused him to miss time within the last year. All it takes is one or two more of those for doubt to begin creeping in. With all of the information that we now know about brain injuries, I don't think it's ridiculous to think that if he sustains head injuries at the NFL level, he may be forced to consider giving up the game, whether he wants to or not.
3.) Psychos will make a case for Josh Allen, and this one I simply don't have time for. Yes, he's big, has a rocket arm, and fits the mold of an NFL QB. But his accuracy is cause for concern, particularly on underneath routes.
When you compare that to one Baker Mayfield's, the argument should end there:
A 70% passer in the Big 12 or a 56% passer in the Mountain West…
On that note, I'd like to address the "Big 12 defense" argument before we move on. I know defense is considered optional in that conference, but it's not like the Pac 12 is some defensive powerhouse. The Big 12 and Pac 12 both had 4 teams in the conference that were up the NCAA Division 1 average in terms of total defense, so it's not like Rosen or Darnold were playing against absolute shutdown units either. So, kindly, miss me with that argument.
4.) People will *sigh* compare him to Johnny Manziel. This, of all the consequences, bothers me the most, because in my mind it's such a lazy comparison. Yes, I get it, Baker had that run in with the Arkansas PD and messed up. He owned up to the mistake, and hopefully learned from it.
Johnny and Baker also have similar college stats. People have been using that as a knock, but when Johnny Manziel came out of college he was viewed as the most intriguing QB prospect we have ever seen, and did things in the SEC that were before not possible from a QB. So how is that fuel against Baker? If anything it shows that Baker can be everything that Johnny couldn't, because their make up is entirely different.
Johnny Manziel loved the perks of playing football (which ironally, may have been percs) Baker Mayfield just loves playing football. Yes he's a loudmouth, and yes he's cocky, but I'd rather have a guy that encourages people to rally around him and owns his mistakes over a guy like Kizer or Manziel who would pout after every INT and treat this organization like a joke.
FURTHERMORE, Baker and Johnny's paths were completely different. Johnny grew up with money, connections to A&M, made the most of them then got lost in the sauce. Baker grew up in Texas, walked on at Tech, then walked on to Oklahoma, won the starting job, and won the Heisman. He's fueled by people who doubt him, and he has a track record of making everyone eat their words.
So when Baker gets drafted first overall tonight, I'll rest easy knowing that all of these journalists with nothing better to talk about will bring up the aforementioned consequences ad nauseam leading up to the season. Trust me Browns fans when I say, just sit back and let them talk, because the more they talk the more motivated Baker will be when his time comes.
If you're reading this, consider this your last chance to jump on the Browns bandwagon, because when it gets rolling we're not stopping for anyone. Prepare yourselves everyone, because the journey to Super Bowl 2022 starts tonight.